How time flies!!
Am I still around? Of course! If you're a writer, you'll still write. Maybe… not as often as I did years ago, but it still continues. And why is that? Well…after completing a goal, or a dream, knowing that it can be done, things then become, well, quite relaxed.
You get sidetracked keeping up with all the wonderful TV series like: Once Upon A Time, Westworld, Walking Dead, Orphan Black, The Originals, Expanse, Dark Matter, American Horror Story, Game of Thrones, and some least satisfying series like Colony, and The 100. That's just a few of the sidetracks of indulgence. There's also work, raising offspring, and day-to-day maintenance of life.
Years seem to go by, and it's still on your mind to do some updates on your blog, or website, but you just don't get around to actually doing it. LOL!
Then, one year, you get invited to do a collaboration effort with other authors, that actually completes and goes into fruition! And the following book was born and available on Amazon and several other places, January 2017!
A list of the authors and their poems and stories are at the ISFDB Site. I'm the only novelette on the list: Perfect Connection. I guess I was a bit long. LOL!!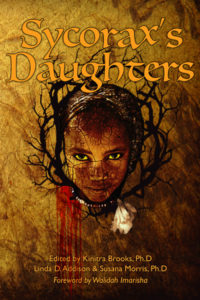 History….
Kinitra Brooks contacted me through my Facebook, and my LinkedIn, and my Twitter, in March 2014. I guess she wanted to make sure she covered all areas and didn't miss a communication with me. LOL! I'm pretty sure she got my name from author Alicia McCalla, because Alicia did an interview on her website of me back in 2012.
Alicia had changed her website so it lost all the comments that were in response to the interview, but it's still up there–Guest Fest: Deana Zhollis Discusses Sexual Slavery in Her Cinderella Fairy Tale.
Thus Kinitra Brooks wrote to me…
I am writing a critical monograph, Searching for Sycorax: Black Women in Contemporary Horror, for a university press, examining the unique positionality of Black women horror creators as subversive pioneers in both Horror studies and Black feminist literary theory….

Searching for Sycorax excavates and illuminates a Black women's aesthetic of horror—applicable to literature, film, and/or comic books—that uncovers and privileges the multiplicity of subversions that are made manifest in the lives of African diasporic women. ….

I am interested in possibly including an analysis or reference of your work in Searching for Sycorax and would appreciate it if you would send me an electronic file of your books….
I was happy to support, especially with an educational direction, and sent copies of my books.
Then in June 2015, Kinitra sent me an invitation letter to invite me to join the Anthology work that she wanted to do. And I had until January 2016 to write up a selection of work that fit what she had in mind for the Anthology.
In October 2016, she did an interview, and dropped a coin to mention the project: Interview with Dr. Kinitra Brooks, Who Teaches a Class on Beyonce.
Funny…. The way that each of these women define what I write isn't exactly how I looked at it. Sexual Slavery? Horror? Because of them, I had to rethink the category of my work. Naive me was thinking that all my writing was simply some Erotic Science Fiction writing.
Horror? I definitely wasn't thinking in that category at all!
When I wrote to Kinitra that's how I thought of it, she spoke on her idea on the Anthology: "..the premise is that Black women redefine horror when they write it."
I was like, "Huh."
I kinda liked that idea. Redefining Horror. So, I told her…
Count me in!