I'm driving around with my car magnets, and they look pretty good.
I would upload a picture of it, but it came out pretty dark from my cell phone. And why I haven't taken one with my camera? Too lazy right now. I still haven't downloaded what's in the camera now…lots of baby pictures!
I got the car magnets done at Whole Magnet Signs
After realizing that my car magnets just has two of my books, I asked my Book Cover Designer to make a general "logo" so to speak. I'll be writing more books than just that (and I actually have three self-published). So, I gave her my idea of what I would like. Not sure if I already posted this, but oh well, my mind seems to not hold as much memory as it use to. But anyway, I told her I wanted a Mad Hatter image, a fairy, a space ship and my Wendh Prince guy from my very first book on the cover. And it came out just like I liked it. She added all three books that I currently have self-published in the picture as well, which is okay with me because it just gives a sense that I have more than one book. So here it is…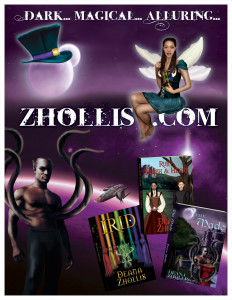 The next thing I want to do is get this on my business cards. I had created business cards before, LOTS OF THEM, from Vista Print, but they all have just my first book on them. Now, I'll have a general image to put on posters and business cards to hand out, and that's much better.
Wow, I've posted quite a few things in April. That's because I'm finally getting some sleep and more time for myself as my daughter gets older. She is now 8 months and counting. A routine definitely helps everyone out. The Hubby gets to get his bike riding in, and I'll soon be getting back to my 3rd book of the Calling Series.
Until next time. Tootles!