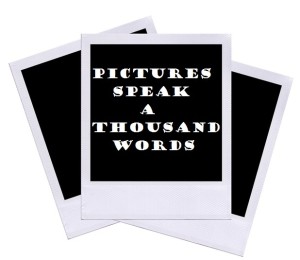 If you started reading this blog site from the beginning, you'll notice there weren't any pictures for each subject I spoke about. Being that sometimes I'm late to the game, I didn't realize, on the internet, how just "words" could be so boring. What made it dawn on me to starting posting up pictures? I looked at other author blogs and realized, as a reader, what I found appealing.

PICTURES!!
I mostly use the ClipArt in MicrosoftWord and modify them with Gimp or Paint. Then, when I did a little research and learned on some forums where I could get some pictures from, I included that as well. I mainly search on Flikr for "Creative Commons" images that have rights to modify and create derivative works. There's also Stock.XCHNG that has photos. It was mentioned that you can find some fonts too, free fonts at FontMaster.com and 1001 Free Fonts. If you make your Book Covers yourself, these are good places to find stuff.
I wrote a blog on how to size your pictures for websites. That's important to have the right size picture and wrap words around it.
The other thing I'm still debating on is how often to post on my blog. I really, really, really, don't have much to say on self-publishing unless I run into something that triggers a topic. Posting three (3) times a week, the internet world states, is the key to getting an audience. Once a week, keeping a schedule on a specific day of the week, works too. I like the once a week thing, but that takes material, and, again, I don't know what to provide that's not already in one of the lists above already.
I really would have to dig around for some content…or get guest blogs; but I'm picky about novels because I don't want to have an author on my pages who I'm not interested in their writing, or doesn't have much of a fan base–such as myself.
So…. I'll think about it….the once a week thing. We'll see.