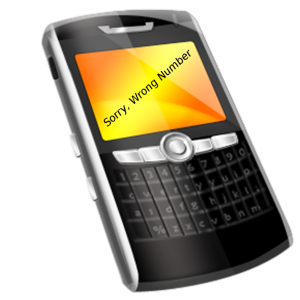 I got a wrong number text message one day at 1:00AM. I didn't mind in the least. It was a Saturday night and I was up anyway, and, obviously, so was this person, because they texted,
"I'm still awake…dang!"
They then sent another text at 8:24AM. It was at 9:18AM when I finally answered. By the time I answered back, they, of course, figured out that they had the wrong number.
"Sorry, wrong number," I texted, "but I hope you had a fun night anyway :)"
The person replied, "I know, sorry. Thanks."
I then told them how I appreciated the text, because I really did. They sent a picture of a nice attractive woman posing for the camera wearing a zebra-striped, calf-length jumpsuit. On her feet she wore six-inch, black, high-heel sandals. She stood sideways with a cool stance, one hand stuffed inside a pocket, with a red, brick wall filling the background.
"Hey," I texted, "It's always fun hearing someone enjoying life. It made my day. LOL"
The person replied back with a smilie. 🙂
In a day of technology, where people change numbers like they do hairstyles, I can see how that can happen. And this person was definitely having some fun that night to a point where they switched some digits to send a message to a friend that they thought they knew would love to hear about their 1:00AM excitement.
So, you might be asking yourself…what's this gots to do with Self-Publishing??? Well, I'll tell ya.
After thinking about it for a moment, I then sent a text along with a picture. Since I was sent a picture, it was just fair that I send one back. I sent a picture of the cover of my novel IRID.
"I'll use this as an opportunity for a shameless plug." I texted. "If you know anyone interested in science fiction or fantasy, have them take a looksie at my site www.zhollis.com. Keep Enjoying life! 🙂
The person then replied back, "Thanks, I read too. Have a blessed day."
Heh. Heh. So, that's why I'm adding this post today.
I don't have that many opportunities to talk to strangers and promote my book. Actually, it's been awhile, like the post I had when someone asked about my car magnets, and that was back in 2010. That was the last time. But this time, was a little bit More FuN!!!
I'm not a sales person, and I can not really see myself as one, but given that I had that painful experience back in 2010, I'm now in the mindset to look for an opening to talk about my novel… only when there's an opening for it.
This was quite a fun experience for me, and I wasn't sure what kind of response I would receive back, if I got any. I was thinking more like I would not get a reply, or that the person would just give me a plain, "Ok. Thanks." reply. But, I'm glad I got the response back that I did. It was awesome!
"I read, too."
So, keep enjoying life, "Fight Night Nikka," and I hope you spread the word about my book, or at least share the experience with a friend.
Until Next Time!