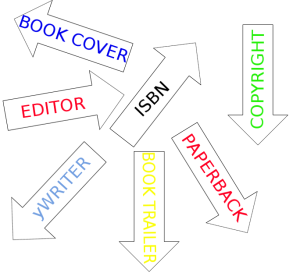 I love written down instructions. When there's A LOT of steps to do, then "words that stay" (as mentioned in The Dark Crystal on defining what "writing" is), written instructions, are there to help when you need them.
I'm back to doing my self-publishing steps for two more books which I have finally finished writing and self-editing. Now, the 2nd and 3rd books of The Calling Series (Jetta and Creations) are ready to go for my editor. She has Jetta right now and we'll start on Creations in a little over a month from now, after Jetta is done. I've also contacted my Book Cover Designer, and she's off to creating the cover for Jetta as well.
I kept forgetting, "What do I need to do next again?" and I'm so glad that I have this blog to go back to figure out what I missed. My Step to Self Publishing has those necessary layers that I just forget how to do:
BookTrailers – Got to get my pictures at Dreamstime and music at AudioJungle
Copyright – Will go to website after getting Book Cover and Editing done
ISBN – Check! Already have a block of them, BUT, I got to update the title with the associate book for Bowker
Format for Paperback – Will do Steps here. And Uploade to CreateSpace
Marketing – I wanna do the PRLOG again, just because I want to DO EVERYTHING!
Update Social Media Sites – Goodreads, Shelfari, LibraryThing, Facebook Page – once everything is uploaded and submitted to Amazon Kindle and Smashwords
Hmmm. Is that it? I th-think so…. Oh well, if I missed something, I'll just go back to the blog page and retrace my steps.
Until Next Time!