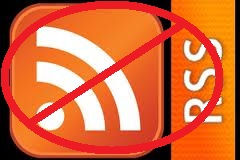 Soooo, I found out that google no longer uses the "Note In Reader" tool, which means I can no longer do this nifty trick: Tutorial: Create RSS Feeds for your Website. And that's really upsetting, because I just can't figure out all that HTML coding and such for my static (or don't-change-so much) website www.Zhollis.com to have RSS on it's page.
Darn it! Darn it!
Oh well. I guess I ain't gonna do it…period.
Sometimes with all this techie stuff, you just have to throw in the towel and submit and give up.
I don't have time do figure out and research all the RSS stuff. But then again, I'm wondering if anybody uses it anyway….
Then there's the "Subscribe" field I could add to my site, but I can't figure out a way to do that either. I mean, I could use MailChimp which is FREE and what some people have done, but I figure it would be a learning curve just like when I had to learn how to build my own Contact Me Form. I mean, I did A LOT for my webpage and even put a blog out when I finished building everything that listed on all the websites I used to help me. But then I took a look at MailChimp and found out it isn't that much to do, it's just that their Form is pretty basic and you need an actual picture banner to make it a bit more of your own. So, the form isn't quite "your" website per se. It isn't a part of it like my Contact Me form is exactly on My website, but it's on MailChimp's site (well, that's how it looked like it functioned).
Thank goodness the blog sites (My Word Press and Blogger) don't have that problem and adding Apps and neat little features to them are a cinch. But having your OWN website without all the nifty tools to help you build it…well…it can be a pain in the, uh, bottom.
Sigh. Oh well. I just removed the darn RSS that was on my website, which wasn't working very well anyway, and called it a day. I'd look into more on MailChimp later. It seemed to be my easiest choice.
If ya'll have any other ideas out there, give a girl some help, will ya! 🙂
Until Next Time.