Costs of Self-Publishing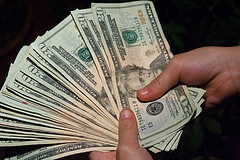 Well, self-publishing isn't for the faint of heart, but you can really get around a lot of cost if you look around, or do a lot on your own, or skip some things that you don't deem necessary.

Here are the costs for me, so far, in what I've invested for publishing my three (3) books.

I began in August 2008, and prices and ideas, as I hobbled along, went down as I made relationships with those involved in the process, got past the initial setup fees and processes, and figured out what free things I could acquire in this digital age from the internet.
I'll add more costs as I go along….
COURSES
$70.00 How to Start an Internet Business (October 2008 — http://www.gsinet.org/index.htm)
COPYRIGHT – Uploaded Electronically (otherwise cost is $40.00)
$35.00 The Made
$35.00 Irid
$35.00 Ruby, Flesh & Heart
ISBN NUMBERS
$275.00 (Block of 10 for Paperbacks in 2008)
$250.00 (Block of 10 for eBooks in 2011)
DBA (Doing business As) – Good for 10 years
$5.00 Deana Zhollis (County Clerk Office)
$5.00 Night Before Day (County Clerk Office)
$100.00 Bank Business Account
DESIGN SERVICES
$400.00 The Made Book Cover
$300.00 Irid Book Cover
$300.00 Ruby, Flesh & Heart Book Cover
$250.00 Poster Design (for future Marketing)
EDITING SERVICES
$700.00 The Made (447 Pages/130,000 Word Count)
$475.00 Irid (220 Page/75,000 Word Count)
$475.00 Ruby, Flesh & Heart (220 Page/75,000 Word Count)
WEBSITE DESIGN
$8.41 NameCheap (Website Domain Name) Initial Setup
$13.00 NameCheap (Website Domain Name) Annually
$72.00 WebSite Hosting (ICDSoft) Initial Setup
$58.00 WebSite Hosting (ICDSoft) Annually
$160.00 Adobe Professional (For Paperback Interior PDF Format of PDF/X-1a:2001 for Lightning Source)
$200.00 Dreamweaver CS3 (for Zhollis.com Website. NOTE: FREE html software, try out KompoZer. I downloaded it and it works great!)
$30.00 Template for Webpage (http://www.thetemplatestore.com/)
PRINT-ON-DEMAND: PROOFS
$315.00 Lightnting Source (Three (3) Books: $75.00 Title Fee each/$30.00 Proofs)
$35.51 CreateSpace (Two Irid, One Made Book Proofs–Bought on Separate Dates–Includes Shipping)
$76.77 LuLu (All three books, two Made Proofs–Bought on Separate Dates–Includes Shipping)
MARKETING
$70.00 PostCards (100) & Business Cards (200) (VistaPrint–100)
$130.00 T-Shirts (2), Hats (1), 100 Large Calendar Magnets
$66.00 Car Magnets (2) Size 24×10 (Accent Signs & Graphics– Wholesale Magnetic Signs.com)
$140.00 Photo Stock (for Book Trailer–Dreamstime.com)
$65.00 Stock Music (for Book Trailer–AudioJungle.net)
WHAT WAS "FREE"
*~* Gimp Software
*~* Print-On-Demand: Lulu and CreateSpace (Though cost of actually book is atrocious)
*~* eBook: Amazon (for Kindle), Smashwords (for Nook), and Mobipocket (Mobipocket no longer available for new Self-Published Authors)
Lessons Learned
I shouldn't have bought Business cards and Post Cards with my book The Made. Especially since I wasn't ready for marketing yet. The calendar Magnets went out with my 100+ Christmas letters and my book wasn't even ready to buy yet. So that was a missed opportunity. I didn't advertise my 2nd and 3rd books on my next Christmas letter because I didn't have the room and I was hesitant since I was still looking for ways to make my books more available to buy than simply on Amazon (which was Lightning Source–which I haven't even begun to upload my files yet). Also, I had my 2nd and 3rd books coming out which makes my business cards out-of-the-loop since it only has The Made. I will now need something more standard for advertising than just the one (1) book. That's when I went back to my Book Cover Designer to make me something that included all three books. And when I do make more books, just having those three for the Business cards would be okay because then people could go to the website and see the additional new books.
This Page will continue to be updated as I go along….